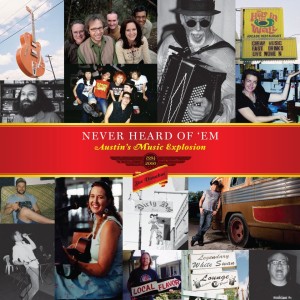 My husband, Mike, and I opened up a music shop named "Local Flavor" in the early 90s.  From the beginning, we were determined to be a sounding board for the local Austin musicians.  We started incredibly small – darn near microscopic – and grew and grew until we housed over 1000 titles from LOCAL artists.
Often, I wrote articles about our magnificent, local musicians for a trade mag and for magazines throughout the country.  The book is a compilation of these along with remembrances of the first time I met an artist or a concise bio of someone you may have never heard of.
With the advent of being able to record OUTSIDE the studio, musicians became able to record their songs on the fly.  Local Flavor was the beneficiary of this type of spontaneous inspiration with shelves that, over time, filled to the brim with this exciting, youthful energy.
Mike and I didn't produce any of these artists.  We didn't do anything other than to sell their music.  Yet, we were front row spectators to the sudden development of an independent music scene.
I'm still a local flavor enthusiast, going to see as many local artists as my time and money will allow.
For a free pdf of the book's intro, you've got to check out the Never Heard Of 'Em website.