For starters, nearly everyone calls me Sue.  I've lived and loved in Texas all my life.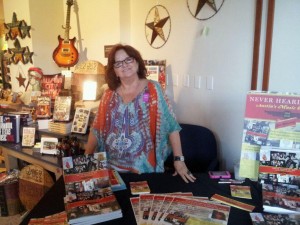 My husband died a while back and I was left without direction and without happiness.  It was a long and difficult time.  But, my beloved Mike would have only wanted me to be happy, busy and fulfilled.  So, it was time to begin the healing by starting to live – again.
This site is part of that process.
One day, I learned just how little there was online about what I should – as a widow – do AFTER the several steps of the grieving process.  How was I to proceed? How to become a woman again?  There was no real useful advice. So, I ended up writing a book; the working title is "Channelling Mae West."  In it, I document what I did to live the life that I still had to live. It's in its umpteenth revision.  So much to talk about!  That's another part of the process.
But first, I wrote another book, Never Heard Of 'Em, about the Austin, Texas independent music scene in the early 90s.  My beloved Mike and I owned a music shop, Local Flavor.  It was a wonderful time in my life giving me many of my most precious memories.
I write Flash Fiction, a fabulous test of a person's writing ability.  Flash is all about presenting an entire vignette with a very small number of words, and, as the name implies, in quick time.
I'm a co-founder of the Texas Music Walk of Fame, held in Corpus Cristi every year.  It's an enormous project that takes up a lot of my time. And, yes, music is in my blood.
I'm a striving chef, compiling recipes for my cook book.  I had wanted to call it "Sex and Soup," but discovered that there were a very STRONG innuendo in the name.  I'll come up with another title.
And, there are friends and family who were at my side through all of this.  They deserve my time and attention as well with no complaints from me.
I'll be updating events as they happen but, as you can see, I'm busy, honey!